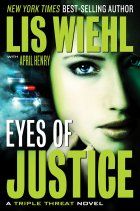 Have you ever sat at the DMV and wished that they wouldn't call your number so soon?
No?
I would have laughed at that absurd idea a week ago. But there I was, reading
Eyes of Justice
by Lis Wiehl, and wishing that they could just take a bit longer so I wouldn't have to stop reading.
This book is
A Triple Threat Novel
. Actually, it is the fourth in a series. I had no idea it was part of a series or else I may not have asked to review it. However, this book does stand alone, as it wasn't until I had finished the book that I even realized there were others.
From the publisher:
The Triple Threat Club has solved intense murder mysteries before…but this time it's personal.
Cassidy, Allison, and Nicole fight for justice every day—Cassidy as a crime reporter, Nicole as an FBI agent, and Allison as a federal prosecutor. Together they're a Triple Threat to be reckoned with.
But when a ruthless murderer kills one of their number—and the authorities seem intent on keeping them out of the investigation of the crime—their desire for justice goes into overdrive. They find an unexpected ally in a quirky private investigator named Ophelia whose methods confound the wise.
Yet just when it seems police have the killer in custody and justice is within sight, he somehow strikes again. Not knowing whom to trust, the team engage in a deadly game of cat-and-mouse with the killer. Nothing can be taken at face value…and nothing will ever be the same.
A riveting Triple Threat mystery that will leave readers shocked and satisfied.
If it wasn't obvious from what I said at the top of this post, I loved the book. The characters seemed real, and there were just so many fabulous little touches too. This isn't a spoiler, but later in the book a character is introduced who really doesn't have much at all to do with the story. She's in Arizona, I believe, and she bought something on eBay that turns out to be a critical piece of evidence. I loved the realism in the scene.
As soon as I figured out this book was part of a series, I put the first one on hold at the library. I worry a bit that I may have ruined some of the earlier books by reading this later one, but I'm sure I will enjoy the first three as much as I enjoyed this.
Oh, and I only was able to read four chapters at the DMV. They did call my number, and the next 72 hours were jam-packed. I picked Eyes of Justice back up on Sunday and read the rest of the book in one sitting.
Fabulous book. If you like crime drama, or stories about women friends, I would recommend checking into this series.
Disclaimer: As a Booksneeze Blogger, I did receive this book for free from Thomas Nelson. No other compensation was received. For more about my take on reviews, visit my blog post
here
.