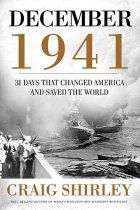 As we come up on the seventieth anniversary of "a date which will live in infamy" I find myself thinking about the changes brought about by that fateful attack on Pearl Harbor.
So when I heard about the book
December 1941
by Craig Shirley, I knew it was something I would want to read. I was able to obtain a ePub copy to read on my Nook. I think it was a good way to go, as this book is HUGE. The hardcover would have overwhelmed me. On my Nook, it is 741 pages, with the last 150ish pages being notes. Since this book traces the events of the month day by day, that is an average of 19 Nook pages per day.
The description from the publisher:
December 1941 traces, day-by-day, the most important 31 days in the history of America's participation in WWII, which snuffed out the lives of millions and changed history forever.

From December 1, 1941, until the morning of December 7, 1941, America was at peace and—with the exception of the stubborn and persistent high unemployment of the Great Depression—was a relatively happy country. By the afternoon of the December 7 attack on Pearl Harbor, America was a radically changed country, forever. Its isolationist impulses evaporated, and both major political parties became more or less internationalist. The month also introduced food and gas rationing, Victory Gardens, scrap drives, a military draft, and the conversion of Detroit into an "arsenal of democracy." From the moment of America's entry into World War II, people of all kinds, but mostly women looking for work, flooded into the city. Instant apartment buildings sprang up, as did eating and drinking salons, all to the advantage of the massive increase in spending generated by the federal government.

December 1941 is a fascinating and meticulously researched look at the American home front—her people, faith, economy, government, and culture.
The book is great. Craig Shirley pulls information from so many different sources and it is fascinating to read what was in little newspapers (and big ones) on the days before Pearl Harbor especially. That is not something I've ever seen before.
Of course, the reports from during and just after the Pearl Harbor attack are fascinating as well, and I was a little surprised at how much else happened in that single month.
I was a little worried when I understood that this book was pulling so much from newspapers and other original sources, but it is woven together incredibly well.
While I can't sit and read this for hours at a time (mostly because there is just so much information) this is totally worth the time.
Disclaimer: As a Booksneeze Blogger, I did receive this ebook for free from Thomas Nelson. No other compensation was received. For more about my take on reviews, visit my blog post
here
.