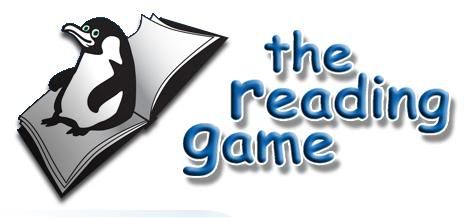 The amazing and wonderful reading products just keep coming this Crew Year.
Today I get the chance to tell you about a brand-new product from the author of Wordly Wise... This one is called
The Reading Game
, and it has been a hit in my household.
I certainly am a proponent of using phonics to teach kids to read. But
just
phonics hasn't been enough for two of my children. And yes, that is with using good, comprehensive programs that truly do a great job.
One thing missing for my two older struggling readers (and even my non-struggling reader) is work with all those little words. The helper words. The words that tend to be taught as exceptions, mostly because they either do totally break the regular rules, or because they follow "advanced" phonics rules that haven't been taught by the time the child is likely to be seeing the word. I'm thinking of words like: of, the, a, to, is, what, where and so on.
With my older kids, I have tended to drill Dolch lists, or find other ways of reinforcing these words. You know, every time we run into the word "of" I don't need the kids to be sounding out "/ah/ /f/ off, no, ummm /oa/ /f/ oaf. no. ummm /oo/ /f/ oof, ahhhh... /uh/ /f/ uff... oh, wait, this is a word where the f says something weird, oh, I know... /ov/"
By that time, the kid has no idea what is going on in the text and has to start over. Ugh. And maybe good readers get to that point quickly... but my kids have all needed explicit drill to get to the point of just sight-reading those words with any sort of automaticity.
So... I was incredibly excited to try The Reading Game.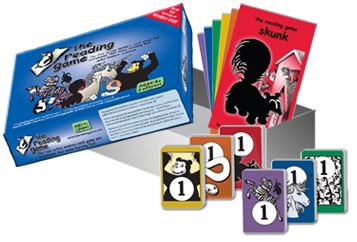 The basic idea is to learn words in bite-sized chunks by playing Memory with five words at a time. After playing six sets of the game, the student has learned 30 words, and is ready to read a book. The process is repeated six times... for a total of 180 words. Many of these words are from the Dolch sight word list, and many (63%) of the words from the 100 most commonly used English words.
You can see the six sets of cards are color and animal-coded to match the books. The game also includes an instruction book that lists all of the words and gives test sentences that you can use to be sure the child is mastering the words.
You go at the child's pace... and because this is a game (shhh! don't tell my big boys) you can assign a struggling older sibling to play with their younger sister and thus reinforce these basic words in their lives too.
Trina loves playing the game. This is a perfect level for her. And here are a couple shots of her playing with William:
Another turn or two, a match is made...
But then....
Trina told me one day that she likes playing against William the best, because "he pretends he doesn't remember stuff and he pretends he's mad when I do remember. And I let him think he's fooling me into thinking I won fair and square." And she giggled. Fortunately, William doesn't read my blog, so her secret is still safe.
She also gets the chance to play with Richard -- but he is so competitive and those games don't tend to go so well. One of them gets mad. Connor gets in on it sometimes, but "he's always too busy doing chemistry and algebra and 'litature' and stuff" so that doesn't happen as often as Trina would like. I love when Connor does play, because he does the best job of coaching on how to say the words.
Overall opinion
: Trina loves this. I love the emphasis on really learning so many basic words that do NOT get enough focus in most reading programs. I love the game format, and the animal labels (instead of graded labels) for the levels.
The books are really nice too. Simple paper-covered books, they have fun illustrations (with a lot of action) and at least a basic plot. Skunk, the first book, includes sentences such as "what kind of cat is she" or "skunks with stripes will not play". One thing to note... other than the word "I" there are no capital letters included, nor is there punctuation.
I understand the all lower-case part, but it is disconcerting for ME. Trina doesn't care. And there is a suggestion to have the child figure out what punctuation the book needs and to add it... which is fine for us, as Trina is the youngest, but it would make it a bit more challenging to use with multiple kids.
Anyway, I thought I should mention it as I know some people who would not be able to get past the all lower-case and no punctuation bit. For us, she gets the upper-case and punctuation in her regular reading program, and not having it in this supplement is not a big deal either way.
Okay, so by the end of the games, when you get to the purple zebra book ("my favorite!!!" shouts Trina), the child is reading fairly normal sounding sentences... and the story is pretty funny. The zebra (who belongs at the back of the alphabet book) gets loose and wants to hang out in the front instead. One two page spread says, "it should not be at the front of the books" (page break) "zebra should be at the back"
We love this.
And you can check out all kinds of great information at The Reading Game
website
, including
how and why
this was written and some
videos of it in action
. For $24.95, this is a fantastic and fun supplement to almost any reading program.
You can read what other crew members had to say about The Reading Game here: