This may be a bit of a New Year's Resolution, but starting today the kids and I (along with 220ish friends in a Facebook group) are working through the verses in the book
100 Bible Verses Everyone Should Know by Heart
by Robert Morgan.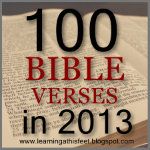 You don't need the book to participate, however it is only $2.99 for the Kindle edition and it is a great little book. Check out
Shanna's post
about how this will work. If you are interested in joining, I can add you to the Facebook group too.
I hope to post every Monday. And I hope we can keep up.
The idea is to work on two verses a week for the first 50 weeks of the year. For this week, we are working on verses I already know, but I don't think all the kids know the second one.
Genesis 1:1 -- In the beginning, God created the heavens and the earth. (ESV)
John 1:1 -- In the beginning was the Word, and the Word was with God, and the Word was God. (ESV)
What I love about the book is that it isn't just a list of verses. First, there is a whole lot of great stuff on why you should be doing Bible memory work. But then when you get to the verses, it isn't just a list. There is a couple pages on each one. I'll be reading that aloud, we'll work on memorizing the verse, and we'll read the verse in context. We'll also pull out some resources for each verse to get some background.
Then we'll move on to read the next one and repeat the process.
I'm planning to take Andrew Pudewa's idea about the "Suzuki method of poetry memorization" from Developing Linguistic Patterns through Poetry Memorization, and we will apply that here too.
So that means we will be reciting every verse we've learned so far every day... for now. In March, these January verses will start moving to an "every other day" schedule. I'll work those logistics out then.