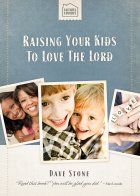 It has been awhile since I've read a general parenting book. It's not that I think I know it all, but this genre grabbed me more when my oldest was 5 than it does now that he is 15.
On a whim, I requested
Raising Your Kids to Love the Lord
by Dave Stone when it came up for review at Booksneeze. I expected some big book by someone claiming to have all the answers, so I was pleasantly surprised when this arrived.
An almost pocket-sized book (with 144 5x7" pages), it is divided into fairly short chapters that can be read in those oh-so-brief snatches of time that you tend to have as a parent of young children.
I really appreciated that so much of the book focused on fixing ME. If I want my children to be reading the Bible, do they see me doing it? If I want my children to be caring for the hungry, do they see me doing it? The big idea I got from the book is that I need to be authentic. My kids see the real me regardless.
The other aspect I really appreciated was that Stone wasn't at all patronizing or condescending. He didn't come across as someone who has everything all together and has a perfect life with perfect children. I felt like I was listening to a real person.
Definitely worth the read!
Disclaimer: As a Booksneeze Blogger, I did receive this book for free from Thomas Nelson. No other compensation was received. For more about my take on reviews, visit my blog post
here
.