My kids love "doing art." I detest the mess. Somehow, art projects always seem to turn into paint on clothes, paint on furniture, and a dumped container (or two) of paint-y water on the carpet. And stiff brushes hiding somewhere.
It's getting better now that my kids are getting older, and we do end up with more art projects happening lately. I was really intrigued by the
Kwik Stix 12 pk
that came up for review from the Schoolhouse Review Crew, though. Was it going to be too babyish for my 10-year-old? Or did
The Pencil Grip, Inc.
really have a product that would work for upper elementary kids who want no-mess art?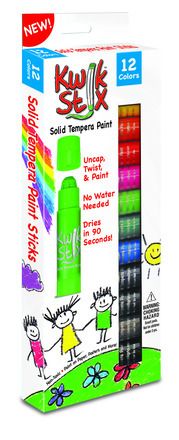 I'm thrilled to report that we've had oh-so-much fun with the Kwik Stix. In addition to the fairly normal colors shown here, we also received
Kwik Stix Neons
and a
Kwik Stix Metalix Pac
.
Trina loved these. When I asked her to bring me some samples so I could take photos for the review, she brought me a folder filled with her paintings. She struggled to narrow it down to just a couple projects.
The green pen on the cover here shows you how these work. They look like a fat marker. You take the cap off, twist if you need to, and you can just color the tempera paint onto your paper (or cardboard, or coffee filters, or...) Put the cap back on, and wait about 30 seconds for the paint to dry.
That is all there is to it.
Super simple.
We've used these paints to make a poster for a fundraiser for American Heritage Girls. We've used them to decorate cardboard. We used them on coffee filters to make flowers. Unfortunately, I only got a photo of that project in progress (the bottom right in the montage here).
Mostly, the paints have come out when Trina wants to draw something, and I don't want a mess.
As you can see from the examples she chose, you can do bold, strong colors. These work great for bold strokes, but you can get some finer lines too.
Another really cool product they offer is implied in the company name. The Pencil Grip. We received a sample of
a pencil grip
-- those little plastic things you put on the end of a pen or pencil, to help kids learn how to hold the pencil correctly.
I think we would have loved these a few years ago, but at this point, it isn't something we really need. This is a quality grip, though, and seems sturdier (and easier for ME to hold) than others I tried in the past.
Go, check them out. This is something I will repurchase as we do use these up. Not that we seem to have made a dent in the paint yet.
Facebook
:
https://www.facebook.com/thepencilgrip
Pinterest
: :
https://www.pinterest.com/KwikStixPaint/
Twitter
:
https://twitter.com/ThePencilGrip
@ThePencilGrip
You can also go see what 99 other Crew members had to say about the Kwik Stix. Definitely do that too.
Did I mention this is a no mess art supply?