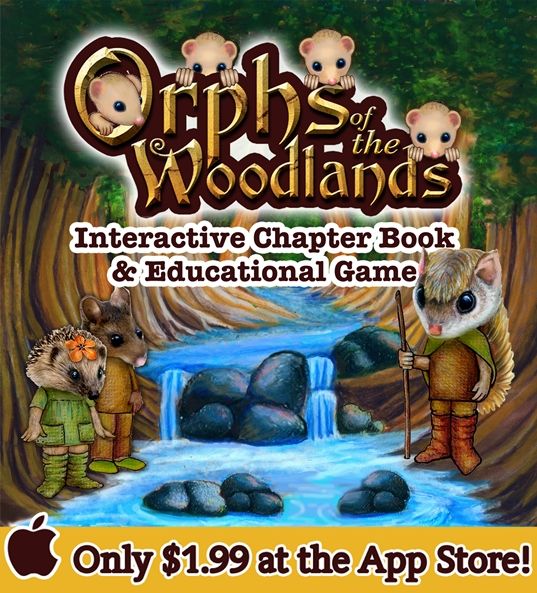 Last year, the Crew had the chance to review a really neat online program from
Star Toaster
. A couple of my boys worked on that, and one of the things I really liked about it was that it encouraged them to read the story carefully in order to complete various tasks in a game-like environment. One of the things I didn't like so much was that the readings were quite lengthy for my struggling readers.
In the past couple of months, we've had the chance to work with a new interactive book,
Orphs of the Woodlands at Tangletree
, as an iPad App, and that has been phenomenal. This is essentially a prequel to the story that takes place in the online program.
As a Crew Leader, I really needed to know how this program worked, so I sat down and worked through the entire story over a couple of days. My 10-year-old daughter saw me doing it, and she begged to have a chance as well. I also set up my 12-year-old son.
This is at a slightly easier reading level than the online subscription, and the big key for us is that the individual chapters are significantly shorter.
The basic idea of this program is that you are reading a story that incorporates all kinds of knowledge. After most of the chapters, you can go and get a "job" that uses some of that knowledge and other skills, in order to earn the currency you need to purchase supplies for the orphaned creatures you are reading about in the story.
For instance, in chapter 2, you read about the homonyms foul and fowl, and you also read about thunder. If you click on the highlighted words, you can see a text lesson on homonyms, and you can watch a presentation on thunder and lightning. Once you "go" to town, you have the opportunity to do some jobs that relate to what you've been learning.
One thing I really love is that you do have to be paying some attention to what you are reading in order to correctly answer the questions. One job involves watching some paintings float down the river, and then being able to recall which ones you saw.
There are lots of great little phrases and tips as you go along that relate to basic study skills. "Picture something in your mind if you want to remember it." Or "Learn to listen and listen to learn."
The jobs cover all sorts of areas. You get the chance to work for the newspaper, which could involve choosing the correct word, or identifying nouns. At the Critter Cafe, you learn nutrition and recipes. Some activities involve science, some involve math.
As a parent, I can check to see how many chapters my students have read. I can see some details about the jobs they have accomplished and how they did. I can add more students, so everyone can work on their own account.
The biggest complaint here is how quickly we got to the end. The good news there is that the next part, Thornwood, says it is coming soon. The adventure will continue.
See what other Crew members have to say! And go check them out in social media.
Facebook:
https://www.facebook.com/startoaster4kids
Twitter:
https://twitter.com/StarToaster