Today I get to talk about one of my very favorite companies for homeschool curriculum,
Memoria Press
. I was first introduced to Memoria Press a dozen or more years ago, and I used a lot of their materials and loved them. Now they have so much more available!
The Homeschool Review Crew has recently had the opportunity to review three very different products:
First Form Greek Complete Set, which I plan to work through with Connor this summer. Other reviewers used Iliad & Odyssey Complete Set
, which I have been using with William -- and we love it!
My fifth and seventh graders have been using two complementary products that will be the focus of this review:
The Story of the Thirteen Colonies & the Great Republic Set and 200 Questions About American History Set
. These two programs can be used individually, but I really love the combination of the two of them together. They are both intended for grades 5-8.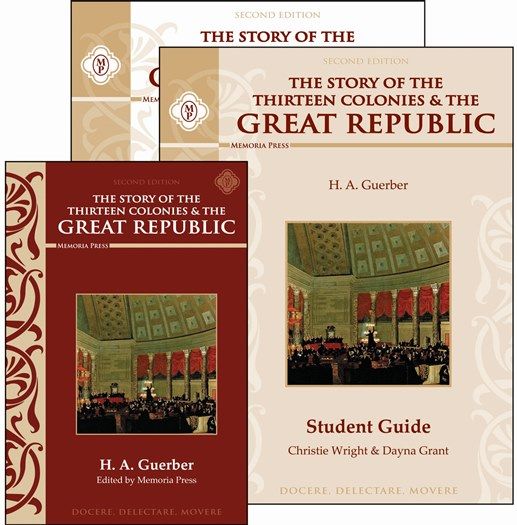 The main component for us is the H. A. Guerber set. This set consists of the book, The Story of the Thirteen Colonies & the Great Republic, plus a Student Guide and Teacher Guide. The program is broken into thirty-two weekly lessons. A typical lesson covers 2-3 chapters in the Guerber book, and then there are four sections in the workbook. First is a Facts to Know section, which lists out key people, places, or events and gives a short explanation. Second is a vocabulary section, which pulls words from the text, and the students are to look the words up and write out an appropriate definition. Third is a series of short-answer Comprehension Questions. Finally, there are some enrichment activities, which usually include map and timeline work, along with some type of research.
For instance, lesson ten covers three chapters of the book (Stories of Franklin, Braddock's Defeat, and Wolfe at Quebec). Each chapter of the book is around two or three pages, so these chapters are not long at all.
The Facts to Know section mentions people like Benjamin Franklin, General Braddock, and William Pitt. It also covers two events -- the Seven Years' War and the French and Indian War. Vocabulary words include words such as apprentice, dint, clad, and fray.
The discussion questions really do make the kids think. None are too difficult, but they need to be paying attention and thinking as they read. The enrichment for this lesson includes locating places like Philadelphia and Quebec on a map, adding to your timeline, and a composition assignment to write several short journal entries as though you are a colonist in this time.
The 200 Questions set ties right in. This set includes flashcards, and both a Student Book and Teacher Guide. The 200 Questions break down as follows:
150 questions dealing with historical events, such as naming the general who captured Quebec.

30 questions related to a timeline, so it is necessary to grasp dates here. The only date they expect you to know from this lesson is when the French and Indian War occurred.

20 questions related to famous quotations

44 questions related to the presidents of the United States
Yes, that adds up to more than 200.
Working through the Guerber text, and adding in the appropriate questions from 200 Questions will only get you up through 116 of the event questions. To work through the remaining 34 questions, Memoria Press recommends using Story of the World 4.
We were looking for an easy-to-implement history program that would still teach a lot, and this does fit the bill. We are able to use this by doing history 3-4 days per week. We read a chapter per day for two or three days, and the kids then go into their Student Books to answer the appropriate questions. Once we get through all of the chapters, they take a day to do some of the enrichment activities, and we go through the new questions from 200 Questions.
All together, we are spending about twenty minutes per day, and we are all learning.
Bottom line is that we love these sets. My oldest high school student is using the flashcards too, as he is studying for the American History CLEP test. The flashcards give him one more way to test himself.
Check out Memoria Press on social media
:

Facebook: https://www.facebook.com/memoriapress/
Instagram: https://www.instagram.com/memoriapress/
Twitter: https://twitter.com/MemoriaPress @MemoriaPress
Pinterest: https://www.pinterest.com/memoriapress/


And definitely click the banner to go read more Crew reviews!