A couple of years ago, my oldest son worked through the materials in
Institute for Excellence in Writing
's original High School Essay Intensive program. He got so much out of it, and we were both glad that we had spent the money and the time to go through it.
When I heard that IEW was updating the program, I was curious. When I found out that we'd be reviewing it for the Crew, I was excited for the Crew, I looked forward to seeing
High School Essay Intensive, Second Edition
for myself, but I wasn't jumping up and down with excitement for myself.
They did it again. Just like the recent remake of their signature programs, this new edition takes a great product and makes it wonderful. I should have been leaping for joy.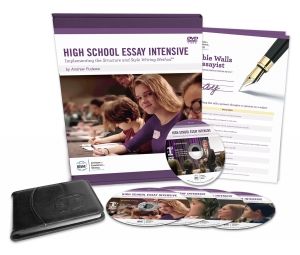 Look at what you get.
Five DVDs, with over six hours of instruction.
A packet with hard copy of some of the information in the seminar, plus room for notes.
Their brand-new Portable Walls for the Essayist.
Let's start with that last piece.
I am so impressed with the Portable Walls for the Essayist that I now have four of them. Each of my boys has their very own. This product is a tri-fold folder covered with so much information and handy lists. It is convenient and doesn't take up a lot of space in an itty-bitty dorm room. (I sent one with Connor to college this past semester.)
Some of the lists include:
Types of essays
Essay models (basic five paragraph and others up to a twelve paragraph "Super-Essay"
Information on the Essay Writing Process
Notes about the TRIAC Paragraph
Strategies for Timed Essays (such as the SAT and ACT)
A list of words "for analyzing"
A list of different sentence paatterns
Models for four types of essays (argumentative, persuasive, compare/contrast, classical rhetoric)
And a whole page of words. Mostly transitional words and phrases, but also a list of adverbs and prepositions.
I would have absolutely loved these walls when I was in high school and college. If your student doesn't really need more instruction in essay writing, you should at least consider getting this inexpensive piece.
The main part of High School Essay Intensive is the DVDs. There are five DVDs, which cover:
General essay-writing strategies (two DVDs, 1a and 1b)
Tips for the new ACT essay
Tips for the redesigned SAT essay
Tips for the personal essay, like those required on many college applications
A few days ago, I drove up to Wyoming to pick up my oldest son from college. He had just finished finals and has a bit over a week at home before he heads out to work at a summer camp. Since he has told me repeatedly how glad he is that he went through the original High School Essay Intensive, I showed him the new version.
We've been watching it.
He's even been pausing the DVD to do the exercises.
He thinks this one is even better than the first.
We skipped DVD 2 and 3, as he won't be taking either the ACT or SAT any time soon. I had also skipped those (for now) with my two high school students. The other three DVDs have been wonderful.
Andrew Pudewa is teaching a group of mostly homeschooled high school students, and working through a writing seminar. The video content is filled with laugh-out-loud moments, which makes it fun to watch. He covers a lot of ground. The list that I posted above about what is on the Portable Walls would give you a pretty good idea as to the topics covered.
You can pop in the DVD, follow along with the handouts, and then pause to write when the DVD tells you to do so. Connor felt that the first two DVDs were incredibly useful for college students and he anticipates using that information into his post-college adult life as well.
The final DVD talked about the personal essay, and that wasn't all that applicable to much that he needs, though we did discuss how we had relied on the personal essay portion of the original High School Essay Intensive when he was applying to school last summer. A refresher on this might help with a scholarship application he will be working on here in the next week.
Watching that final DVD is worth it, though, just to listen to the concluding thoughts that he provides. These thoughts don't have anything at all to do with writing, but about living life in general. He comments on how the students have been born into interesting times, and discusses how they shouldn't go to college to get a piece of paper, nor should they get a job just for a paycheck.
Having my high school and college students listen to that last five minutes of Andrew Pudewa talking to the students as though they are his own kids was probably worth every penny of the cost of this program.
My bottom line: High School Essay Intensive, Second Edition is well worth getting for any high school or college student. Even if you already own the First Edition.
You can go see what other members of the Crew think too: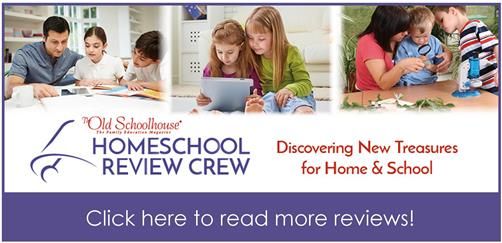 Follow IEW on Social Media:
Facebook:
https://www.facebook.com/excellenceinwriting
YouTube:
https://www.youtube.com/iewtv
Twitter:
https://twitter.com/iew
@IEW
Pinterest:
https://www.pinterest.com/iewriting/