It was so nice to be back doing Bountiful Baskets again today. I missed everyone these past couple of weeks! And I missed the produce too!
Today, I got two baskets, and they were really quite nice. Here's a photo of one of them: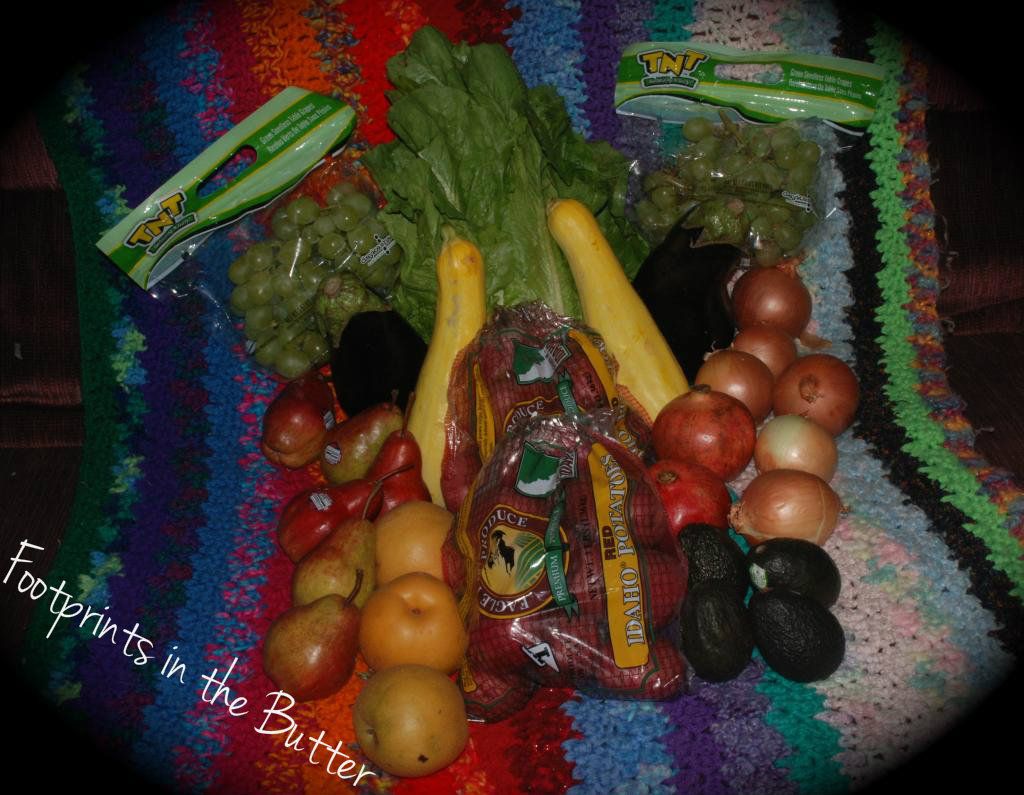 So what did we get in our two baskets, combined?
Four 3-lb bags of potatoes
Three heads of lettuce
Four yellow squash
Three eggplant
Thirteen onions
Eight avocadoes
Three bags green grapes
Four pomegranates
Six Asian pears
Twelve red pears
What will we do with all of this stuff?
Potatoes, onions, and lettuce just get used, I don't really make plans for them. I'm on potato and onion overload again though, so I may have to get a bit more intentional. However, if I just work a bit at making an extra-big batch of mashed potatoes for Christmas... well, I might be able to deal with some of that "too much" right now.
The grapes and both types of pears will just be eaten. Pomegranates will undoubtedly be turned into
Pomegranate-Apple Crisp
, based roughly on the linked recipe. One of these times, I need to keep track of what I do instead and blog it.
Avocadoes need to be used pretty immediately. I'm probably going to freeze them, though I am seriously lacking freezer space at the moment. I either make guacamole out of the frozen stuff (though I'm the only one who will eat it) or I sneak it into things. I may need to look into new ideas for avocado.
Yellow Squash will be a side dish or two, probably. I haven't found anything I truly love, so I may try this Paula Deen
Cheesy Squash Casserole
.
Eggplant? I begged on Facebook for some ideas, and got quite a few. So I'm going to look around my cupboards and try something. Moussaka? Eggplant Parmigiana? Golden Eggplant Casserole? Beef and Eggplant Pie? I have no idea yet...
Great basket...