I'd love to make this Star Wars related somehow, since it is Star Wars Day (May the Fourth be with you!) but I couldn't figure out a way to make my produce look like a space battle, or anything else terribly creative.
So, just the basket. Today it was good to be the first site on the route, as the driver ran out of hours and everyone after us is delayed.
I've got mine.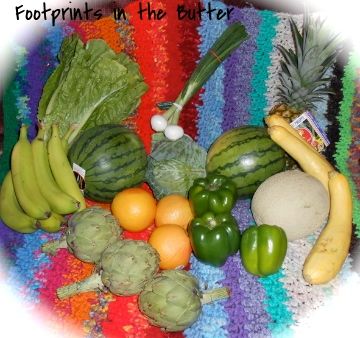 Great basket, but I am glad I only contributed for one today. It includes:
1 head of cabbage
1 bunch Romaine lettuce
1 bunch green onions
3 green bell peppers
3 artichokes
3 yellow squash
1 cantaloupe
2 personal-size watermelons
6 bananas
3 grapefruit
1 pineapple
In addition, I got 8 pounds of rhubarb, a flat of strawberries, and 40 pounds of organic oranges. I'm hoping those will stay good for our drive next week. And obviously, I have strawberry-rhubarb pie in mind. My absolute favorite. Mmmmm.
As for the basket, my plans are:
Fruit all just gets eaten without a whole lot of thinking on my part. I'm planning to dehydrate the pineapple though.
Lettuce, green onions and bell peppers are basically staples and I really just use them, no thought necessary.
The artichokes will probably be done tonight, as an appetizer essentially.
Cabbage -- I don't know. I tend to do an unstuffed cabbage casserole thing, and with only one head around, that should work out well.
Squash -- I always struggle more with these types of squash. I know I had a recipe somewhere for a squash side dish that included cheese. I think I'll look for that.
Anyone with a squash idea for me, though, I'm all ears!!