One of the greatest aspects of being a part of the Homeschool Review Crew for awhile is that we have the opportunity to revisit some of our favorite vendors.
Homeschool Legacy
is one of those companies. We have reviewed some of their Once-a-Week Unit Studies in the past, which gave us a chance to work on Boy Scout and American Heritage Girls merit badges.
Over four years ago, we worked through
We the People: Getting to Know Your Constitution
. That gave us a chance to work on the Citizenship in the Nation merit badges. This time around, we decided to try one of their Once-a-Week Micro-Studies titles,
Thanksgiving with the Pilgrims
.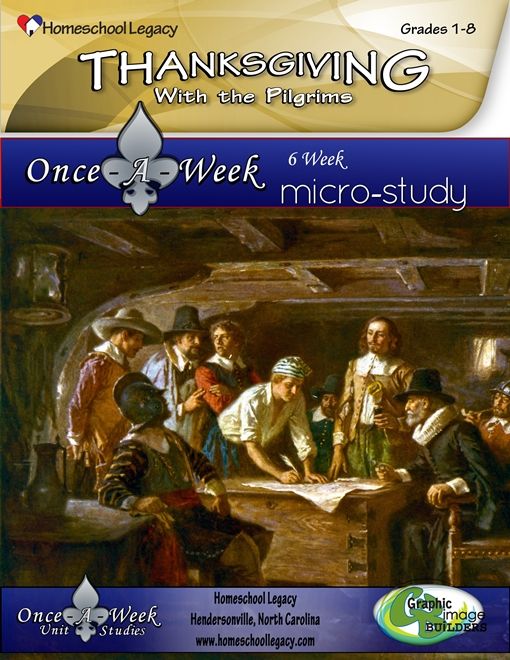 There are a few big differences between the Micro-Studies and the regular Unit Study products. The biggest two, for me, is that the Micro-Studies do not explicitly fulfill merit badge requirements and there isn't an extensive book list included.
Most of the Micro-Studies are four weeks long (Thanksgiving is six weeks), and they include three 30-minute assignments per week. These can be done once a week, as the title indicates, or spread out over the week.
Or (and this is what we did) you could make this a one-week study by doing a week's worth of work (about 90 minutes) a day. In the case of the Thanksgiving study, the sixth week is actually about Christmas, so I think an ideal way to use this study would be to do the first five "weeks" of work in the week and a half leading up to Thanksgiving, and then spread week six out over the week after the holiday.
And then you could start the Once-a-Week Unit Study,
Christmas Comes to America
. We did that one three years ago, and in re-reading
my review
, I am reminded that I wanted to do this again when Trina was an Explorer so she could earn her Music Appreciation badge at this level.
The Micro-Studies are intended for grades 1-8, but I did use it with all of my children (5th to 11th grades). It has been awhile since we truly studied Thanksgiving as a whole, and there was new information for everyone.
One thing I loved about this study was that we spent a fair amount of time watching historical re-enactments online. Almost as good as taking an actual field trip!
In addition to great videos and online activities, the study contains great information and gave us plenty to talk about. Towards the end of the study, there are some cooking activities you can do (Indian Pudding, stringing cranberries, Wassail) but we opted not to do those.
My kids are pretty impressed with the studies as well, and are already in discussion about which we should do next. One is all for pirates (
Pirates or Privateers: You Decide
), my Anglophile thinks that
Victoria and Her World
is the obvious choice, and learning that cherry pie was part of the lesson plans made
Cooking up History with the Founding Presidents
a top choice as well. One thing I find really interesting is that most of the other studies have more hands-on activities, with timelines, maps, or doing things like labeling the parts of a ship.
What I really love about these studies is that they do go into some depth without being overwhelming. I'm not a big unit study fan, as they always seem to be too much work for not enough benefit. These, however, are very open-and-go, and they don't suck up a lot of time. We can take a one-week break from our regular history program and play a bit.
You can read what other Crew Members thought of their studies, as we had a total of six of them being reviewed! Go. Check it out!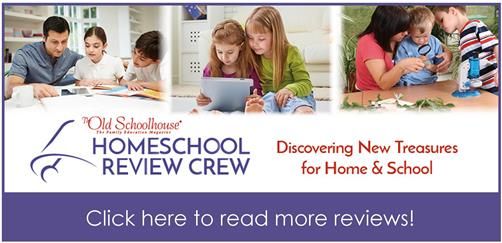 Social Media Links
Facebook:
https://www.facebook.com/homeschoollegacy/