A few years ago, I tried using
Hewitt Homeschooling
with my big boys. For various reasons the
Gr 7 Lightning Lit Set
was not a good fit for them, but I really loved the program. Now that my youngest children are in 6th (Trina) and 8th (Richard) grades, I decided to try with them.
That was a good decision.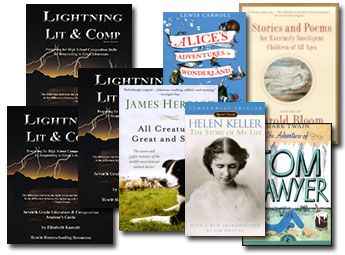 For purposes of this review, I received the Teacher's Guide, Student's Guide, and Workbook. The only consumable portion of this program is the workbook, so I obtained a second copy of that. The above photo shows all of the materials you need to complete the year. We own Stories and Poems for Extremely Intelligent Children of All Ages, and we either own the remaining books, or we can borrow them from the library.
I love the layout of the program. The students are reading full books: two fictional novels (Tom Sawyer and Alice's Adventures in Wonderland), and two non-fiction titles (Helen Keller and All Creatures Great and Small). In between those books, you are reading short stories or poems out of the Stories and Poems book. That means that you are alternating between short readings and long ones.
I love that.
The basic schedule for the first semester looks something like this:
Weeks 1-3: Rikki-Tikki-Tavi, reading, lessons, worksheets, and a writing assignment.
Weeks 3-9: Tom Sawyer reading and comprehension questions.
Weeks 10-12: Tom Sawyer lessons, worksheets, and writing assignment.
Weeks 12-14: Poetry, reading, lessons, worksheets, and a writing assignment.
Weeks 14-16: Alice's Adventures in Wonderland reading and comprehension questions.
Weeks 16-28: Alice's Adventures in Wonderland lessons and writing assignment.
The second semester is similar, alternating from short story to book to poetry to book. The overlap is when you are revising a paper from the previous work and starting to read the next work, or finishing the reading and starting to do the lessons.
Another aspect I really love is that for each section, you have a choice of three or four writing assignments. The Teacher's Guide makes suggestions as to the difficulty of the various options. Since Trina is young for this program (if they had the 6th grade program out, or even the 5th grade one, I would use that instead!) I am generally encouraging her to do the easier writing lessons. Richard can use a bit more of a challenge.
I am also adapting some of the worksheet activities for Trina, letting her discuss the concepts with me sometimes instead of doing all the writing.
Each chapter of the program represents one work, or a group of poems. The basic outline of each chapter is to learn a bit about the work, with a suggestion of something to be watching for as you read. Then you read the work and answer some comprehension questions. It is suggested that the questions be covered on Friday for all the reading from that week. Vocabulary words are provided as well. Each chapter has a literary lesson and a mini-lesson. There are a series of worksheets. Finally, there is a writing assignment.
The worksheets are coded so you know what they cover.
L is for worksheets covering the literary lesson.
M is for worksheets covering the mini-lesson, which often have to do with other composition skills.
C gives students a chance to practice composition skills.
T is for thinking skills.
G is for grammar. I love the grammar pages.
P is for puzzle pages, one crossword and one word search. These are optional. Trina loves them. Richard, well, not so much.
E is for Extra-Challenge. These pages are also optional. I am not having Trina do these, and I am picking and choosing for Richard.
This program works well for my kids. The workload is reasonable -- and adjustable. In many of the weeks, the student is only reading and doing comprehension questions. Over the course of the year, the student completes eight writing assignments, and there is plenty of time available to do those.
One thing I had seriously questioned about Lightning Literature before I used it was just how much time is spent "only" reading. I saw that as a negative, as I truly believe my kids need to be getting into far more literature than "only" four books in a year. My opinions on that have changed a lot. And they haven't changed at all. Let me explain.
I think it is critically important for children to be exposed to a wide variety of literature. Novels and biographies, like the selections here. But far more of them. That does not mean, however, that they need to be "doing" literature studies on everything they read. With that in mind, studying four books (plus two short stories plus two groups of poems) is far more reasonable.
We can change up the pace too. The kids are busy this summer, but based on how things have gone so far, we'll get through Tom Sawyer in far less than seven weeks. I have them work on the set of chapters for a week, and when they finish that set, we do the comprehension questions. Then they move on to the next chapter grouping.
When we get to the worksheets, however, instead of doing the Literary Lesson, Mini-Lesson, and all of the worksheet pages in a single week, we'll be doing a single worksheet per day. So, assuming we actually start on a Monday, we'll follow a schedule like this:
Monday - read the Literary Lesson about the Plot Line, and do the worksheet about definitions
Tuesday - read the Mini-Lesson on Outlines, and do the Outline worksheet
Wednesday - do the worksheet on writing from note cards, writing a paragraph about the Mississippi River using the provided facts
Thursday - do the composition worksheet on actually writing note cards
Friday - do the thinking skills worksheet on Fact and Opinion. I'll suggest that they do the puzzles as well.
Monday - do the grammar worksheet on pronouns and antecedents
Tuesday - the extra assignment relates to knowing your audience. Trina may listen in, but I will talk through this assignment with Richard. We will brainstorm ideas for the three different letters, and I will have him actually write one of his choice.
Then we'll start Week 11, and work on the writing assignment. That may very well carry into the next week. In other words, we'll do the reading in three to four weeks instead of seven, but then we'll spread the worksheets and writing out over three full weeks instead of two plus a bit.
I love that I can have them learning about literature and writing about literature, but I also have time in their schedule for them to be writing about other things. And the Teacher's Guide mentions that this course is touching on a concept now, but they will cover it more fully in 8th grade. That helps me to leave things be and not hyper-explain concepts. They are getting enough now. They'll get more later.
The Crew reviewed all levels of Lightning Literature - Elementary, Jr. High and High School, and also the My First Reports. Go read their reviews too!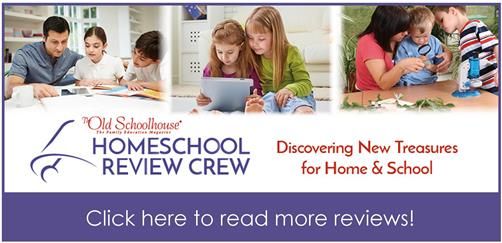 Social Media Links: