One of my favorite homeschool companies over the past dozen years has been
Memoria Press
. I am always excited when we have the chance to review some of their materials. This time, the Crew had the opportunity to work with any of their Latin programs, or two different science programs.
Nature's Beautiful Order
is a wonderful set, geared to students in 6th-8th grade, and they also recommend it as a supplement for high school. I think that is how I'd like to use that program, alongside a high school biology course. We chose to work with
The Book of Trees
now though, another program intended for grades 6-8.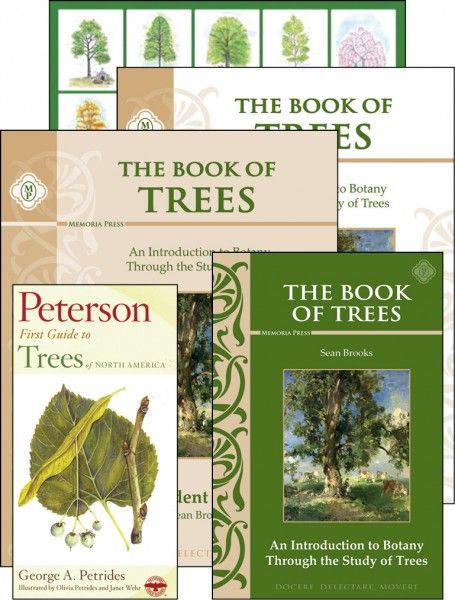 Memoria Press sent the primary components of this program for review - the Reader, the Student Book, and the Teacher Guide. I picked up one of the recommended resources, The Tree Book for Kids and Their Grown-ups, but so far we haven't used that at all.
Flipping ahead, these guides are suggested for reference when you do tree observations in Lesson 20. We are not there yet!
So how does it work? Each of the 21 lessons includes a reading assignment from the text (well, the last lesson is review, so it doesn't.) There are questions in the Student Book, and usually there is something to label. The Teacher Guide includes answers for all of the student work. There are also activities, which usually involve getting out and looking at real plants. Mostly trees.
The hardest part about this program for us is that last little bit. Let me show you our view:
The assignments that suggest taking a stroll and checking out all the various trees clearly need a bit of planning on our part.
Some of the assignments are possible without a field trip. I told the kids to take pictures of the very first lesson, where they were supposed to take a look at all the different plants right around their home.
They told me this assignment was easy, as all we have is prairie grasses. They were a bit surprised to discover that there is a lot more variety out there than they were expecting.
Had they gone a bit further from the house -- or done it in a bit later in the year, we could have found even more.
While this is called "Book of Trees" it covers far more than just trees.
Unit I: The Root & Stem - these five lessons cover roots and stems of all kinds of land plants.
Unit II: Leaves - we are finishing up these four lessons on the structure of leaves.
Unit III: Photosynthesis & Respiration - these five lessons get more technical, with chemical formulas and all that fun.
Unit IV: Flowers & Fruits - five more lessons covering the types and structures of flowers and fruits.
Unit V: Observing Trees - the final section includes one long lesson on trees, forms for observing a whole lot of trees, and a review lesson.
Lesson 8 had us gathering up leaves from different trees, so after an overnight at the zoo, Trina and I stopped in town and checked out the tree varieties on a hiking trail.
We were able to gather up leaves from five or six different types of trees, and while we were at it, we also examined the bark (from a previous lesson) and the roots of an uprooted tree.
That was one of the best hikes we've taken in a long time, as we had something specific that we were looking for and we were able to apply the things we've been learning to what we were actually observing.
This is what I like about the concept of nature study.
Our bottom line on this study is that it is a great mix of fairly short readings, with a lot of real science information included. The questions and diagramming help the information to stick. Then getting out and looking at real plants makes this even better.
The best part is that the bookwork for most of the lessons takes maybe an hour, so you can learn a lot about Botany without making it a huge part of your week.
We also tend to discuss the "Reading and Questions" section, and I don't typically have Trina actually write out the answers. All of the labeling activities, though, she does complete.
Sometimes I think I'm letting her off too easy this way, but she is retaining the information, and that is more important to me than filled-in pages!
When we finish Book of Trees, we are moving on to
Book of Insects
. We might need to get
What's That Bird?
too. I think maybe we just need to do all of the Memoria Press science products!
Go check and see what other Crew Members had to say about this and other Memoria Press products: