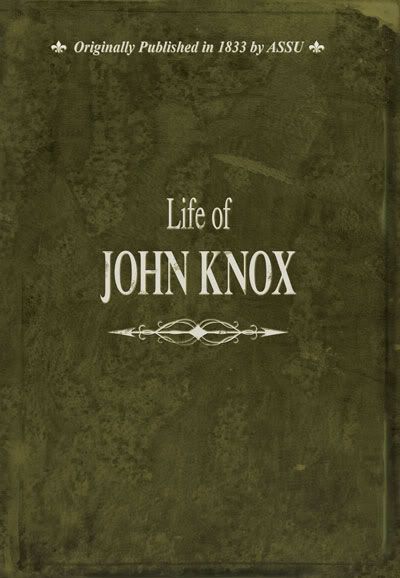 I love old books. And I'm finding I really do like books that just have an appearance of age. This "new" series of biographies by Attic Books is one that is designed with the appearance of age. Distressed cover, funky & uneven pages (I'll try to get a picture of that below).
And of course, the fact that it was originally published in 1833 and includes fairly extensive quotes of a guy born in 1505 means that the language most assuredly adds to that antique feel.
Life of John Knox
is a biography of a man I really didn't know. Given the language being used in the book, I wish I had found even a Wikipedia article and read a little bit about him before diving into the book.
This isn't a long book... 140 pages in all. But it isn't light reading. This is one of those books I ought to keep next to me for the next time one of those little Facebook games comes along. You know, "Grab the nearest book. Turn to page 58. Type the 2nd complete sentence as your status."
For this book, that would be:
The affairs of the protestants, however, soon after took an unfavourable turn ; and after several reverses and disasters, they were at length compelled to leave Edinburgh, and retire in great confusion to Stirling ; but during their calamities, Knox spared no exertions to revive the languid spirit of his countrymen.
At least in this example sentence (which is random), I did understand each individual word!
The point here is that this book is definitely written in the style prevalent in the early 19th century, with plenty of lengthy quotes from the 16th century as well. That means modern readers need to be paying attention, or you'll be like me... finishing a sentence and wondering what in the world I just read. And it also means that the biographer doesn't try to make it look like he is being objective (like any biographer could achieve that anyway!) which "sounds" funny to modern ears.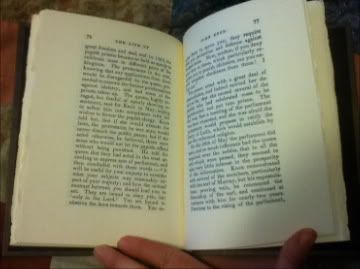 You can kind of see the page edges here
From the publisher:
Rare vignettes featuring the Protestant Reformation's fiercest defender! John Knox had a life of exciting adventure, harsh imprisonment, and brilliant scholarship. Fighting battles both political and religious, Knox bravely defied royalty, nobility, and the established power of the Papacy to speak the truth. A fiery and inspirational preacher, he fiercely upheld the authority of Scripture and salvation through Christ's sacrifice. In perilous times, Knox risked his life daily in a fearless and tireless defense of the faith!
It is fascinating. But definitely to be read when you are actually able to be paying full attention!
Disclaimer: I received this book for free from New Leaf Publishing Group. No other compensation was received. The fact that I received a complimentary product does not guarantee a favorable review.