If you enjoy a good who-done-it novel, you simply have to look for
The Sons of Jude
by Brandt Dodson.
Wow, just wow.
This book is gritty. And while I'm not a cop, nor am I married to a cop, I have had some friends (and extended family members) in law enforcement, so I'm not completely basing my opinions of police officers on television and movies. The whole book just felt so real.
But then I read more about Brandt Dodson and realize why:
Brandt Dodson comes from a long line of police officers dating back more than seventy years on both sides of his family. In addition, he was employed with the Indianapolis office of the FBI. He has lived in Chicago and travels to the city annually.
His "cop" background comes through loud and clear. And while I've never spent an enormous amount of time in Chicago, he sure made me feel like I was there.
So what is the story about? Let's read the publisher's blurb:
The body of a young woman is found in a dumpster in Chicago and detectives Andy Polanski and Frank Campello are charged with finding the killer. The two are polar opposites. Polanski is the son of a disgraced Chicago police officer and is fastidious about his reputation. He has also recently been transferred from another district having blown the whistle on some corrupt cops. Campello, however, takes a live-and-let-live approach to his life and job.

It soon becomes clear, as another young woman--a potential witness--is murdered, that a sex-trafficking operation in Chicago is preying on illegal aliens. As the ill-matched pair dig deeper, an influential alderman and his son are implicated. Then Polanski is framed for a narcotics offense, a payback for bringing cases against the corrupt officers and the alderman? Only when Campello is challenged by a local minister, whom he meets when visiting Polanski, does he find the motivation to seek justice.
Sounds gritty, right? I wasn't kidding about that part.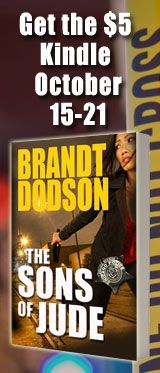 There were a couple of things about the story that were fairly predictable. You can probably predict one just from the two paragraphs above... at some point, Campello and Polanski are going to overcome their extreme differences and inherent distrust of each other and they will have to work together.
It is also reasonably easy to unravel the "who" part of the who-done-it, though not completely. It is the how, why, and who helped him part that keeps you guessing.
This novel had all the elements of a great crime-drama. Interesting, complex characters. An assortment of bad guys, including corrupt politicians, corrupt cops, gangsters, and thugs. Moral dilemmas. Difficult choices. And a crime trail that definitely keeps you guessing.
This is Christian fiction, but Dodson does a perfect job of not overwhelming the plot with unnecessary preaching. This is a book I could easily hand to my essentially agnostic friends, and I know they would enjoy it at least as much as I did. For my quite conservative Christian friends, well... Campello smokes, drinks a bit, and of course the crimes being investigated involve prostitution and human trafficking.
I absolutely recommend this to anyone who likes crime thrillers. I will be reading more in this series, especially after reading an email that Dodson sent to those of us on this blog tour:
The Sons of Jude was written as the first in a series featuring a fictional Chicago police district and a rotating a cast of characters. Major characters in one novel may return in minor supporting roles in other novels, if at all. Characters will marry, die, or get transferred to and from the district. In that sense, this series will be similar to the late Ed McBain's 87th precinct novels, set in the fictional Isola, New York. But it will also be very different in that The Sons of Jude is set in a real police department in a real city. I've lived in the Chicago area and know it well.
Oh, yeah. I will be reading the next book.
Here is the book trailer:
Disclaimer: I received this book through Kregel Blog Tours. No other compensation was received. All opinions expressed in this review are my own.