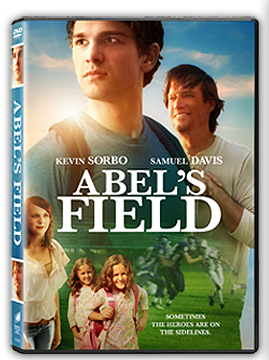 Something that never fails to excite my family? Getting a DVD to review. Because that means a movie night, with Mom actually watching.
So the arrival of
Abel's Field
was met by cheers. And everyone settled in to watch. The previews included movies like
Facing the Giants
and
Fireproof
, which we love, so that got everyone even more fired up.
When the movie started with a football field and flashbacks to the game, my non-sports-fan family was excited. They have come to really appreciate a good football movie.
The movie quickly introduces the main character, Seth, and his totally adorable little sisters. Then we meet Kevin Sorbo's character, Abel, who works as groundskeeper for the school.
The movie meanders at a slow, this-feels-real pace, and you gradually start to grasp at least some of the issues that are central to this movie.
About Abel's Field:
Left motherless by tragedy and abandoned by his father, high school senior Seth McArdle (Samuel Davis) faces enormous pressure as he strives to support his little sisters. At school, he endures the daily bullying of the football team. But fighting back only finds him singled out for punishment and assigned to an after-school work detail under the supervision of the reserved groundskeeper, Abel (SOUL SURFER'S Kevin Sorbo). Much to his surprise, Seth discovers that Abel may be the only one who truly understands his struggles. As dark times lure Seth toward desperate measures, the reluctant Abel may be the one person who can point him back toward the light.
This is a great, family-friendly movie. Although there are a couple of funny moments, this is not a movie with much comic relief. Gritty would be a better description, and full of a realistic small-town feel. Mostly, you watch and want to slap the people involved (especially the football coach, wow, I want to give him a piece of my mind!), while you keep hoping someone will come along and love on those beautiful little girls, and at least
this
mama of teen boys kept praying that someone will come along and give Seth a break and show him some respect.
I do most definitely recommend this movie, and it gives oh-so-much to talk about. And I have one to give away!
a Rafflecopter giveaway
Disclosure of Material Connection: I received one or more of the products or services mentioned above for free in hope that I would mention it on my blog. Regardless, I only recommend products or services I use personally and believe will be good for my readers. I am disclosing this in accordance with the Federal Trade Commission's 16 CFR, Part 255: "Guides Concerning the Use of Endorsements and Testimonials in Advertising.