Okay, I'm joining in...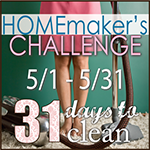 Because anyone who knows me knows that I desperately need to do this...
Anyone else game? The ebook is only $5... so it isn't expensive to join in.
Watch for me to post late in the week. Probably Fridays. And you have permission to yell at me if I don't.
Check
this post
for details as to how this will work. It will be longer than the month of May, because we'll take weekends off (YAY!) And apparently there is some sort of deal on the ebook... I already had mine though.