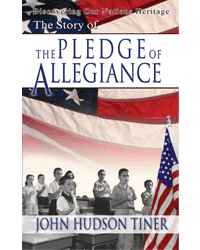 I have been a fan of John Hudson Tiner's books since the first one I read. So when
The Story of The Pledge of Allegiance
was offered up for review, I jumped at it.
A pretty short little book, we read it aloud for a few minutes at a time over a few days.
From the publisher:
When American put their hands over their hearts to recite the Pledge of Allegiance, we know why it's done. Yet how many of us know the story behind the Pledge? How did it come to be?
In this wonderful book, John Hudson Tiner provides the interesting detail behind the patriotic words. Learn facts about the various stages that culminated in the Pledge of Allegiance we say today. It has changed!
Read the stirring accounts of good men and women who boldly proclaimed that God is the source of this country's many blessings.
This book includes sections talking about the changes made to the Pledge, how the Pledge came to be in the first place, brief biographical information about a number of people associated with the Pledge, a discussion of what the Pledge means, and there is even a quiz and some activity suggestions.
The section on what the Pledge means is fantastic. I plan to use this with my kids over and over again as they have Scout activities relating to the Pledge.
This is a fabulous, information-packed little book that I am very glad to own.
Disclaimer: I received this book for free through the Page Turners program from New Leaf Publishing Group. No other compensation was received. The fact that I received a complimentary product does not guarantee a favorable review.