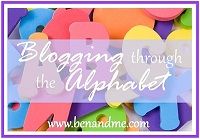 There are just so many great B things to blog about, but this week has nearly slipped away without me doing any of them.
B is for Boy Scouts -- as Thomas made First Class this week.
B is for Bountiful Baskets -- which has changed our eating habits so greatly. But I wasn't able to participate this week.
B is for Boxes -- as I'm trying to sort through a lot of them and get stuff out of my house.
But for this post, I have to say that B is for Books.
Because any week of my life, probably, I could come up with something to write about books.
This week, B is for Books for a couple of reasons. One is that I reactivated my
PaperBackSwap
account (
if you want to sign up, use Footprints as your referrer, and I get a credit or something after you've posted a bunch of books!
).
Why did I reactivate my PBS account? Because... drum roll please...
We are back to using Sonlight.
I'm updating the Instructor Guides for three Cores I've purchased in the past, which means that there are at least a couple new books for each of the levels. I don't want to purchase all of that, and I really don't want to have to rely on the library (seeing as I can't get to the bookmobile often anymore).
So, I listed a whole bunch of books, and I've been mailing out 3-4 every day for a week. And the new books are starting to roll in.
What are we doing for school now?
Connor started Sonlight Core 200 -- History of God's Kingdom. I didn't own this one completely. I owned the IG, almost all the history and Bible books, and a couple literature ones. I really wish I had the time to use this Core for real, but at least I'll have Connor telling me about it.
William and Thomas will be starting Core G -- World History I -- in a couple of weeks. We expect to move through this at a faster pace than scheduled, with the idea of finishing Core H -- World History II -- by next spring. We decided we'd rather compress G + H than do the combined one-year one.
Richard and Trina are starting Core B tomorrow. I suspect we'll also be going at a faster pace than scheduled, especially since we have recently done a few of the Read-Aloud titles. We start off with Charlotte's Web, which I will be re-reading. I was really bummed that I cannot locate our copy of
Missionary Stories with the Millers
, but we are going to read through the
Heroes from Young Readers
series by Renee Meloche instead.
I can't even begin to tell you how excited I am to be back to Sonlight. We used Sonlight as the basis of our homeschooling from the time we started up through a couple of years ago, when things fell apart a bit and I just couldn't keep up. I was spending a lot of time with William and Thomas on their reading, and with the age span, it no longer worked to do just one Core.
We've had a good couple of years, but I need to get back to feeling a bit more grounded. I need to be back to simply knowing that I've done enough with the read-alouds especially.
Of course, I'm also
giving away a great book
this week. And I'm always posting on Tuesday about books we are reading. Here's
last week's post
.
So, this week, B is for Books... and if you check out
Marcy's blog
, you can see where B is for all kinds of other great things like Blocks, Beans, and Blessings.