The Wonders of Creation series, put out by Master Books (a division of
New Leaf Publishing Group
) is a series I've been aware of for quite some time. However, it is only recently that we actually used any of the titles. The Archaeology Book by David Down, was well, well-loved by my middle child. I really appreciated that it was a book that could be used for a wide range of kids. The background in color-coded, so the pale background is a "level 1" (roughly 5th-6th grade), and you have colors for level 2 (7th-8th grade) and level 3 (9th-11th grade) as well.
When I had the opportunity to take a brand-new title,
The Ecology Book
, for a test-drive even before it was published, you better believe I jumped at it. This book comes out in April, and I cannot wait to get my hands on a physical copy of this title.
Written by
Tom Hennigan
&
Jean Lightner
, this has the same basic format as the other titles (yes, that is plural now) I have used in this series. The material is split into the levels, the photos are stunning and gorgeous, and well, the information is solid and engaging.
From the publisher:
Study the relationship between living organisms and our place in God's wondrous creation!


Learn important words and concepts from different habitats around the world to mutual symbiosis as a product of the relational character of God.
Designed with a multi-age level format especially for homeschool educational programs.
Examine influential Scientists and their work, more fully understand practical aspects of stewardship, and investigate ecological connections in creation!

The best-selling Wonders of Creation series adds a new biology-focused title that unveils the intricate nature of God's world and the harmony that was broken by sin. This educational resource is color-coded with three educational levels in mind: 5th to 6th grades, 7th to 8th grades, and 9th through 11th grades, which can be utilized for the classroom, independent study, or homeschool setting.
Whether used as part of our newly developed science curriculum or simply as a unique unit study, the book includes full-color photos, informative illustrations, and meaningful descriptions. The text encourages an understanding of a world designed, not as a series of random evolutionary accidents, but instead as a wondrous, well-designed system of life around the globe created to enrich and support one another.
How did we use it?
Well, we are not anywhere near as far into this book as I hoped to be by the time this review needs to be up. Partially, that is because this is an awkward book to read aloud from a digital copy. And of course, we chose to read aloud because that is just who we are.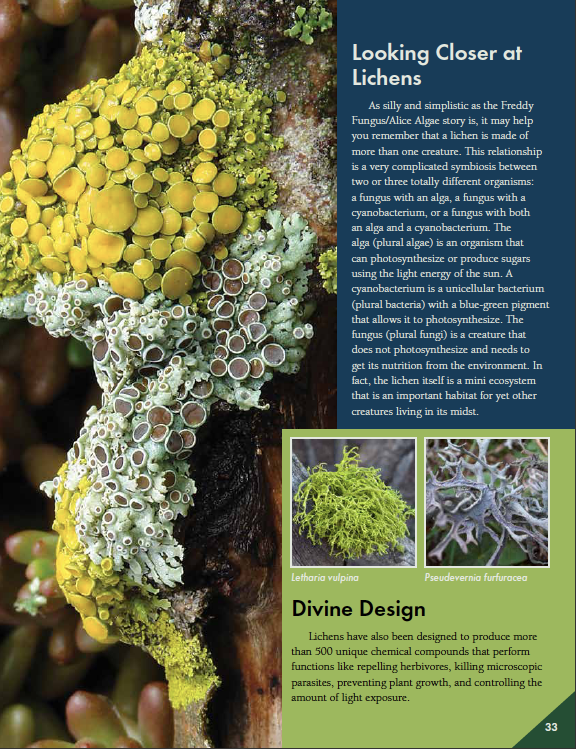 The photos, graphs, charts, diagrams, etc. are integral, as you can see from this page. You need to see the "stuff" as you are reading/hearing about it. With all five kids listening in, that means a whole lot of stopping and flipping my laptop around so everyone can get a look at the images. A real book would be so much easier. On the iPad, it may have worked; but on the Kindle, it was just too small. So the laptop it was.
Don't get this one in a digital format, even if it is offered that way. This title demands a real book.
What do we think?
This book is fabulous. We all felt the grade designations were a bit off, but that may just be because we do so much science around here. I'd label Level 1 as 3rd-6th grade, Level 2 as 5th-8th grade, and Level 3 as 8th-11th. Roughly. Even my first grader was grasping the Level 1 material though, and she got a fair amount of the Level 2 stuff too.
The content is great, and I really think that this book, coupled with some hands-on projects (some of which are a natural extension of the book) could easily be the spine for a 1/2 credit high school course. Have the student do some observations and record some findings, have them work to demonstrate mastery of the vocabulary, and have them do a bit of research into one or more of the areas covered in the text, and you are probably there. I'd throw in a biography or two of some of the ecologists featured in the text as well, but we love biographies. Of course, there will also be a study guide available for this book, and based on the one for The Archaeology Book, that guide will help in making this high school credit-worthy. But I have not seen that guide.
My boys (10th, 8th, 6th and 3rd grades) weren't too excited in the introductory chapters of the book. In chapter two, it starts out with some teens "huddled together for protection" because they are in the woods at night. My bigger boys thought that was pretty sad, actually, and were just a little annoyed at the whole thought that teens wouldn't have spent time in the woods at night before this. "And we don't even have TREES anywhere nearby!" exclaimed one of my teens.
Later chapters though, did engage them. Especially once we got up to Chapter 5: Taking a Liking to Lichens. Once we were getting into specific kinds (or species) there was a definite uptick in the interest level. They felt it was more like real science.
This is a fantastic book, but you don't have to take my word for it. There are a few of us
blogging about The Ecology Book
right now. Go see what some of the other bloggers have to say.
I received this ebook for free from New Leaf Publishing Group.

In exchange for this review, I will receive the physical book when it comes out, along with some other electronic product. Regardless, the fact that I received complimentary product does not guarantee a favorable review.