I know, I usually post on Saturday. But the whole camera cord thing has thrown me off. I finally broke down and bought one.
So here is what my basket looked like on Saturday. And I only got the one...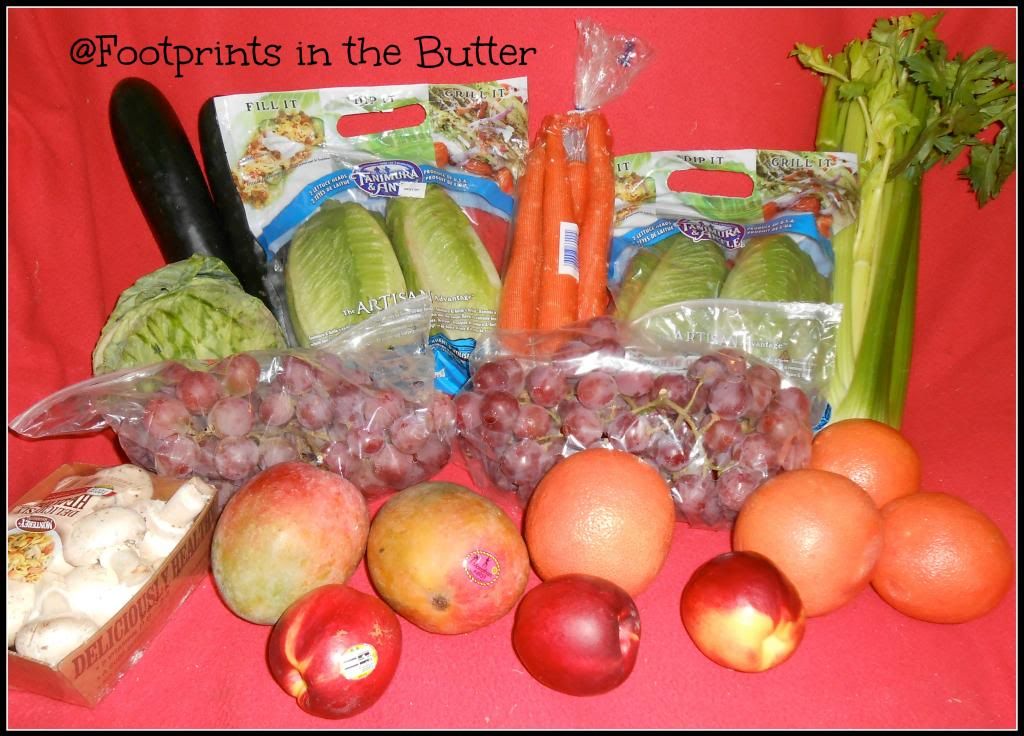 What's inside?
2 bags of Artisan Romaine lettuce.
1 head green cabbage
8 oz mushrooms
3 lb carrots
1 bunch celery
2 cucumbers
2 bags of big grapes
4 grapefruit
3 nectarines
2 mangos
The baskets also contained blueberries... but there weren't enough to go around, so I took a basket without blueberries.
What will I do with all of this?
The fruit, as usual, just gets eaten. Nothing special. I sent a bag of grapes to work with Dale, so hopefully he'll snack on those instead of junk.
Lettuce will be salads throughout the week. Again, nothing really special.
Likewise, carrots and celery are just staples that get used. No planning necessary.
Cucumbers -- somehow we always seem to struggle to get cucumbers used up here. I'm thinking this week that I will slice one up, store it in the fridge in a produce container, and suggest the kids have it with ranch dressing. And if that works, I'll do the same to the other.
Mushrooms. Oh, the possibilities. Mostly, I do believe, the mushrooms will be used for me!
Simple too:
Slice up 4-5 mushrooms and a bit of chopped onion, celery, carrots or whatever. Saute. I add Greek seasoning at this point. Add a couple of eggs, prepared as you normally do scrambled eggs (with milk, with water, with nothing... whatever floats your boat). Scramble up the whole thing. When eggs are close to done, I add a handful of feta cheese, and a handful of fresh spinach, torn. And generally, I turn off the heat, and just stir it all up until the cheese is a bit melty and the spinach is wilted. I cook in a cast iron skillet, so it retains heat pretty well. You may need to leave the burner on low.
This week, I don't have spinach, so I'd just make it without that.