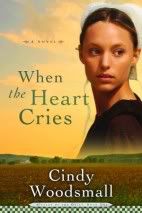 I had the opportunity to review
When the Heart Cries
by Cindy Woodsmall as part of the Blogging for Books program. I picked this book up one evening, intending to read a chapter or two before bed. It was 4:00 a.m. before I put the book down, finished.
From the publisher:
Despite being raised in a traditional Old Order Amish family, seventeen-year-old Hannah Lapp desires to break with custom, forgo baptism into the faith, and marry outside the cloistered community. She's been in love with Mennonite Paul Waddell for three years, and before returning to college for his senior year, Paul asks Hannah to be his wife. Hannah accepts, aware that her marriage will change her relationship with her family forever.

On the evening of their engagement, tragedy strikes and in one unwelcome encounter, all that Hannah has known and believed is destroyed. As she finds herself entangled in questions that the Old Ways of her people cannot answer, Hannah faces the possibility of losing her place in her family, in her community– and in the heart of the man she loves.
My take:
Cindy Woodsmall does a fantastic job of creating real characters, real conflicts, and real relationships. Hannah quickly became a very real person to me.
Early in the story, this 17 year old is raped, by a stranger, on her way home. I had no idea that was the tragedy, the unwelcome encounter. From that point on, the various plot-lines involve the characters coming to grips with what has happened. For Hannah, for her parents, her siblings, her friends... and her community. With Paul off at college, he's unaware of what has happened.
This is the first book in the Sisters of the Quilt series, and one thing that means is that not everything is wrapped up and tied with a pretty bow when the book comes to a close. As a result, I immediately looked into obtaining book #2,
When the Morning Comes
.
Reading this book was a bit like going through the wringer. Agonizingly difficult decisions, horrible injustices that aren't resolved, and situations that are just so heartbreaking and unfair. This is far from your typical light, romantic escape novel. But it is well worth reading.
Disclaimer: I received this book for free from WaterBrook Multnomah Publishing Group for this review.