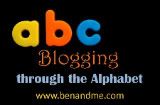 I'm doing my best to not get this done this week! Participating in a meme to blog through the alphabet, even when I already have the perfect timely topic, hasn't proved to be as easy as I hoped.
B didn't take long for me. You see, on Saturday, Thomas became a Boy Scout. That means I know am a mom of three Boy Scouts, plus a Cub Scout. And on Monday, we all actually attended our Scout meetings for the first time in a long time. And today, I was making arrangements for a merit badge get-together. It's been a pretty heavy Boy Scout week.
Let me talk a bit about what each of my scouts is up to lately. I wish I had been together enough to get photos of them in uniform, but maybe I'll add those in later. I'm going to start with my newest Boy Scout, work my way up, and then talk about the Cub Scout too.
Thomas has been a Boy Scout, well, officially since Monday
, as that is when the paperwork was turned in. He is my first one to earn all the ranks in Cub Scouting (Connor started at Webelos, William at Wolf) and he is currently rank-less. I'm sure he'll be earning the first rank -- Scout -- fairly soon. The Scout rank isn't really something that makes me excited about all the great stuff the boys are learning.
But that is just a "joining" rank, with Tenderfoot being a much bigger deal. For Tenderfoot, Thomas will be learning some things about staying safe, exercising for a month, learning some simple first aid, etc. He also has to camp, and help prepare a meal on that campout.
Almost everything he has to do is great preparation for just acting like a responsible young man. I love that. What is really fun is that I look at the requirements (like helping to cook a meal) and I know he can do it. When Connor was working on Tenderfoot, I had to get him into the kitchen for a few days before that first camping trip and teach him how to crack an egg.
I
have come a long way.
William is a First Class Scout
. He pretty much just needs to do some merit badge work to advance to Star, plus stuff like a Scoutmaster conference and a board of review. I think he is working on Environmental Science (all kinds of fun experiments!) and Camping, and then he ought to be able to advance.
Other stuff he had to do included service projects, and being active in leadership. Service projects have been amazing. He's participated in so many great ones. He's spent a couple of weekends doing trail maintenance, he has collected personal care items for a battered women's shelter, he has done all kinds of landscaping, and built picnic tables... and that is just the scout-specific ones. I love the variety of service projects that my boys have been able to do.
Connor is my Life Scout
, and he is kinda sorta working towards Eagle. His current push is to finish up the Eagle-required merit badges. He has four to go, and he has done at least something towards them all.
Personal Management -- he needs to do some things to plan out a schedule and to-do lists (that seems to be a huge struggle), and he also has to do things like learn about loans and credit cards and common stock. This is a great merit badge.
Personal Fitness -- in addition to learning about Fitness, they (all three Boy Scouts will be working on this one together) need to do some fitness tests, design and carry out a 12-week fitness program, and do more fitness tests. That "carry out" part seems to be the hang-up on this merit badge.
Hiking -- if Connor does go on one of the summer events for the older scouts this summer, he'll be hiking 50 miles... over the course of a few days. This will cap off this merit badge. Altogether, he has to do five 10-mile hikes and a 20-mile one. I think the 50 miler is going to cover two of the 10-milers and the 20-miler. Which means I won't have to do the 20 mile one. I love that.
Citizenship in the Community -- this requires doing some research about a community service organization in our area and putting together a presentation about our community too, and a few other things. This is the badge that seems to intimidate him most.
My Cub Scout, Richard
, is currently a Wolf. He has not earned his Wolf badge yet, since we've been gone so much. I have to confess, the Wolf year is just not my favorite. There just seem to be a lot of requirements that don't fit into our regular life. We'll get there, I know it. But this is the one year of Cub Scouts that seems to take the most planning on my part. There are some great activities in there though, like working with tools and learning about the flag. I am very much looking forward to him becoming a Bear though. That is my favorite year.
Obviously, Scouting is something that is pretty important in my family. I've blogged before about how amazing I think Scouts has been for my boys.
To see what other people thought about when blogging about B, go check the most recent
Blogging through the Alphabet
post... books (I thought about that), boys (definitely considered that too), blogging (duh, that would have been fun), broken, and (not) broken...
What a fun week!