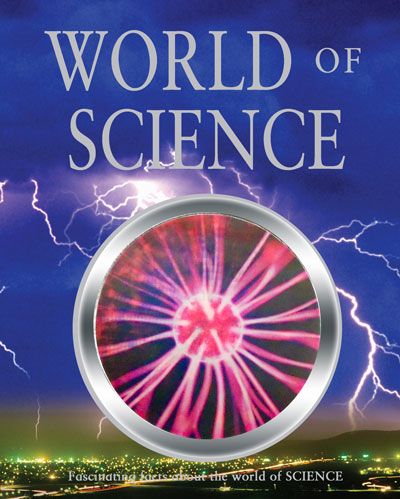 A while back, I
reviewed a fabulous book called World of Animals
. I really thought I'd be posting my review of
World of Science
within a couple days. Oh, that just did not happen.
I had thought about combining those two reviews into one, because there were so many things these books have in common. So I'm going to just lift some of my previous words and only slightly edit them:
During my kids' preschool through early elementary years, we used a lot of Usborne and DK books in our science studies especially. One thing that sometimes made me a little crazy was the constant beating over our heads with evolution and millions of years. We used these books, however, because of the amazing photographs/illustrations and the basically good information about the various critters topics. And there really weren't any good options.
Until now.
World of Science
has probably become my favorite science resource.
Which means I'm putting this book review up for the TOS Homeschool Blog Cruise, as this week's topic is:
What's your favorite Science resource?
You can click the button to the left to go see what science resources my Crewmates love (the post will go up on Tuesday!)
Let me give you the blurb from the publisher:
The World of Science explores God's creation all around us, from the furthest star in the Universe to the smallest atom under our feet. Through six accessible sections, children will gain an understanding of the importance of science in our ever-changing world. This book brings a fresh and engaging approach to all aspects of the subject, while a final section of practical activities and experiments makes the application of science fun and enjoyable.


Over 800 illustrations and photographs
Includes over 60 science experiments
Ideal for home reference and school project work
Now why, of all the hundreds of science resources I own did I choose this as my favorite?
If I had to limit myself to one single resource for roughly PreK-8th grade science, I think I could make this 250 page book do it. Paired with
World of Animals
, I know I could cover pre-high school science. Not that this is a stand-alone curriculum. But I could use this as a spine, and then go looking for biographies of various scientists or books about some of the individual concepts.
This title covers so much:
Matter and Chemicals (basic chemistry)
Energy, Motion and Machines (basic physics)
Electricity and Magnetism (more physics)
Light and Sound (even more physics)
Earth and Life (basic earth science with a bit of biology)
Space and Time (astronomy, physics)
Science experiments (which covers biology, chemistry, physics and earth science)
What I love about this book is that while it doesn't beat us over the heads with talk about billions of years, it also doesn't include a lot of religious talk. I can't begin to tell you how much I like that. It seems like almost everything is on one extreme or another... God isn't involved, or there is a Bible verse in every paragraph. I find myself editing on the fly with both approaches.
This book is different. While the introduction talks about God's created universe, and while I never doubt the point of view that God created everything, there also isn't minute discussion about God creating gravity, for example.
The other thing I love is that the book is simply packed with information. Beautiful photos, illustrations, diagrams, and descriptive text. You can download a sample
here
. Or check out my not-so-fabulous photos.
Great diagrams of how things work
I love that this book addresses issues that many Christian publications tend to avoid.
The experiment pages define terms, list out supplies needed, and give clear photos of the process.
This book is practically perfect.
Disclaimer: I received these books for free from New Leaf Publishing Group. No other compensation was received. The fact that I received a complimentary product does not guarantee a favorable review.