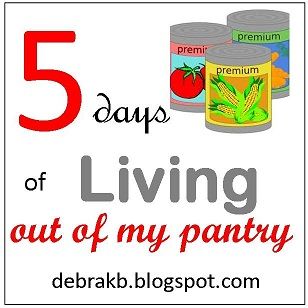 The TOS Homeschool Crew is doing a
5 Days of... Blog Hop
, and I decided I would use this to push me into posting about some things I've meant to for awhile.
I will -- one way or another -- be posting every day this week on the topic of
5 Days of Living out of my Pantry
.
This is the post where I attempt to wrap things up a bit. But I'm feeling way too random and I totally lost my focus.
How do I afford to do this?
Well, this isn't a one-shot thing. For me, anyway, a good pantry is built up over time. In general, I try to be replacing what I'm using as part of my weekly grocery shopping.
And I try to allocate a percent or two of my weekly grocery budget to building the pantry. When I'm in a $35/week grocery budget cycle, it's tough... but I can still get a pound of beans or a single can of tuna, above and beyond what I plan to serve that week. When I'm spending $100 per week, that means I try to put $5-10 a month into my pantry.
I also try to hit Sam's Club every couple of months and purchase something there... a 25# bag of flour, popcorn, or rice, or one of those ginormous packages of yeast.
I allocate roughly $50 every other week to Bountiful Baskets. That lets me get two baskets (which is all the produce I usually purchase for my family) and an "extra" or two. When it is tomatoes, I get a bunch canned. I've also canned peaches, frozen apple slices, and frozen mangoes from those extras. I sometimes can manage to preserve something out of the baskets too.
When neighbors are desperately trying to get rid of zucchini, I'll shred and freeze a whole lot of that. When we can get over-ripe melons for nothing (or next to it) from the farmers down in La Junta, I chop and freeze those too.
I purchase mark-down meat, and come home and do a mini freezer cooking session. A crew-mate posted a bunch about that topic in
5 Days of Freezer Cooking
.
Where do I put all of this?
Well, that is tricky. We don't have a ton of storage available in our kitchen. I do have food stored on the tops of my cupboards in the kitchen. We have food stored in boxes under our bed.
We have a good sized chest freezer in our living room.
Organization is not my gifting. One of my crew-mates posted about organizing your pantry earlier this week though, as part of her
5 Days of Home Organization
.
But, but, but...
Your situation is undoubtedly totally different than mine. My military friends can't build up a huge pantry when they have to worry about moving every three years. They can still get to a point where (except when they are about to leave) they could feed their families for a month or two, but planning for longer just isn't realistic.
That's fine.
You have to do what works for you. I truly believe that EVERYONE should be prepared to eat well for a week though.
What do I cook?
Ethnic cookbooks can be great. I have a lot of Polish cookbooks, and those are fabulous for using some pretty inexpensive ingredients. There are lots of great ideas online. That's where I find most of mine, actually.
Cooking here often involves me looking and thinking, "I have a bazillion great northern beans. And we got broccoli in our basket this week." Then I google "white beans and broccoli recipes" and end up with hits like
Emeril's Noodles with Broccoli and White Beans
. It calls for canned beans, but I'll substitute.
Or if I get stuck, I post on Facebook. A plea like, "Help this northern girl figure out how to cook edible grits!" for instance, and I had a bunch of great recommendations. And I made grits that were not merely edible (which in itself would have been a huge improvement) but people went back for seconds... and it was requested that I make it again.
What about you? Thoughts? Questions? Looking forward to chatting about living out of your pantry...
Keep Hopping thru the Homeschool Crew Blog Hop! Just click on the graphic below.