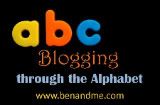 Blogging through the Alphabet time again. I missed a couple weeks. Sigh.
So this week? I'll do two.
M is for Marathon.
N is for North Dakota.
We just got back from a trip home. Home would be Fargo, North Dakota. So on this trip back, the plan was for Connor and William to run in the Fargo Marathon. Well, not the marathon part of the Fargo Marathon, but the 5K bit of it. My brother and his girlfriend were also running the 5K... Jeff was planning it as a "warm-up" for the half-marathon.
Of course, Jeff went and broke his foot. But the other three still ran the 5K.
Temperatures were in the 90s. Fargo residents on the 5K path were asked to turn on their boulevard sprinklers. It. Was. Hot.
So here they are getting ready for the start of the race:
Connor and William are in the lime green shirts by the 30-35 minutes sign
Dad and Jeff were at the start (and finish). The rest of us went to visit Dad's cousin, Marion, and hung out with her for awhile. Then we walked half a block to see the 5Kers come by. This was roughly at the 3K point.
Thomas' arm and head almost frame his brothers here
They looked hot. And William looked pretty tired. But they were running...
After the race, they were presented with finisher medals.
The boys were thrilled with what is written on the ribbon. Hebrews 12:1 -- Let us run with perseverance the race that is marked out for us.
Believe me, they slept well that night.
Their response to their first 5K --
"Let's do that again. Only we'll train more. And maybe it won't be so hot."
Go, check out
Marcy's blog
, where she included some fabulous N is for Nature photos. Other people blogged about great things like Netflix and Next Year!