I had decided that I was NOT going to sign up for any reading challenges (besides the Bible in 90 Days one) in 2011. I probably filled most of the challenges I signed up for last year, but I was lousy at recording anything and I found it stressful.
Then I saw this one.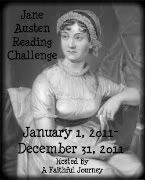 Jane Austen
. Books by her. Books inspired by her. And the movies too.
Yeah, I can do this.
So, my goals for 2011 are to read six of Austen's works (I read Sense & Sensibility in 2010). That would be:
Pride and Prejudice
Mansfield Park
Emma
Persuasion
Northanger Abbey
Lady Susan
I've read most of them before, but it has been awhile. I don't think I've read Mansfield Park before though, and I had never even heard of Lady Susan.
I'm also going to read one or two of the "inspired by" titles, but I don't know which. I'll be checking out some reviews or otherwise trying to get advice. And it will undoubtedly be limited by what my library has too.
And, of course, I'm going to watch any movies I can get my hands on for each book.
Anyone else care to join me?