We love audiobooks in this house. We also love fairy tales. So when I had the opportunity to review a couple of CDs from
6 Pence Productions
-- one called The Fairytale Collection, the other called Princess Reform School -- well, obviously, I jumped at it.
6 Pence Productions
is a family company -- "The 6 Pence Players bring children's theatre to life for young ears by young voices! So, sit back, close your eyes, travel to far away lands filled with whimsy and magic, and let your imagination soar!" Voiced entirely by kids, aged 5-17, we really enjoyed these.
So what did we think?
The Fairytale Collection
is a set of five fairy tales, with a bit of a twist. The five stories are fairly familiar -- Three Billy Goats Gruff, Cinderella, The Emperor's New Clothes, The Three Little Pigs, and Princess and the Pea. They suggest this for ages 3-8, but my big boys enjoyed it as well. They liked picking out references to works such as MacBeth, and had fun trying to guess what strange little twist would come up next. My four year old simply enjoyed the stories.
I think anyone would enjoy this production, but it is probably best for children who are already familiar with the traditional stories.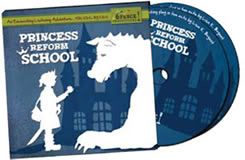 Princess Reform School is their other production. I was a bit hesitant about this -- I mean, from their website: "Societal expectations, pressures and the role of modern-day females are questioned by a gaggle of familiar, and brand new, fairy-tale princesses." Mmm. Well, we did decide to check it out.
This one is recommended for ages 6-13, and I do have to say that it did lose my 4 year old. She listened, sort of, but had a tougher time following this.
My boys enjoyed it. It's an hour and a half, and the fact that dragons are a part of it probably helped. The kids sound so professional, like in the Fairytale Collection.
My 13 year old son's comment on the audio: "It wasn't as girly as I thought it would be." <grin>
We enjoyed these, and will watch to see what the 6 Pence Players come up with in the future.
Disclosure: As a member of Christian Mommy Bloggers, I received these CDs in exchange for my review.
The fact that I received complimentary products does not guarantee a favorable review. It does guarantee a review. A fair review. But I am not going to praise something unless I think it deserves the praise. If I don't like it, you'll hear that. And hopefully with enough detail as to why so you can decide for yourself if what I hate about it makes it perfect for your family. For more about my take on reviews, visit my blog post
here
.