My kids love watching videos for their school time, so we were thrilled when
Timberdoodle
asked if we wanted to review one of the DVDs in the
Body of Evidence
series.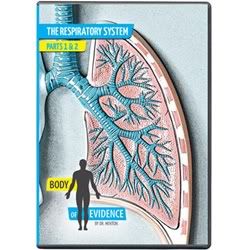 We received
The Respiratory System
, which is the fifth title in this 8-DVD set.
The DVD consists of a lecture by Dr. David Menton to two high school looking students (one male, one female). That felt a little forced and awkward, and the students appeared fairly uncomfortable throughout most of the lecture.
In spite of the stilted feel of the "class" we did get a lot out of the presentation. The suggested ages are 12 and up... and I would tend to agree with the publisher on that. My ten and younger set quickly lost interest.
Dr. Menton made a lot of points that we (meaning the adults, and the 12 and 14 year olds) loved. One of the best lines -- repeated a couple of times -- was "I like props."
My kids do too...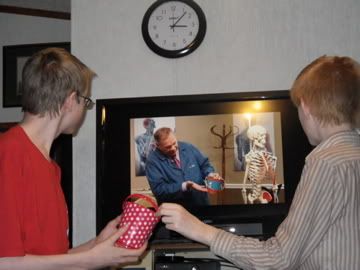 In this scene, Dr. Morton was demonstrating how the ribs curve downward, and in breathing in they behave much like the handle on a sand pail. They lift up and out, away from the body. The kids found a bucket to explore that idea themselves.
He uses other props, like a slinky or a balloon, in demonstrating concepts. He makes extensive use of the skeleton shown above and a life-sized torso with removable parts. Dr. Morton also uses images on microscope slides and computer illustrations.
The DVD covers topics relating to the lungs, ribs and diaphragm, and also the trachea, nose and nasal passages, mouth, and also blood plasma and blood cells. All in about 1 1/4 hours, between the two parts.
What did we think? We quite often commented with an, "I didn't know that!" throughout the video. We eventually decided that we really liked Dr. Morton. But it did take a bit to get past the presentation with the two stiff students.
I will seriously consider other DVDs in this series Available for $14.99 each, or as a set for $99.95, this is only one of the many resources Timberdoodle has available for
science
. I think these DVDs would be great alongside the
Apologia: Human Body
course.
You can check other reviews of these DVDs
here
.
As a member of
Timberdoodle's Blogger Review Team
I received a free DVD in exchange for a frank and unbiased review.