When I found out I would have the chance to review this
Hideaway Country Kitchen
, I was so excited that I forced myself to tell NOBODY. I knew my little two would be thrilled, and I didn't want to hear them constantly asking if the UPS Man was coming today...
So when the UPS truck did show up with it, he put it into the van for me, so that we could "make an entrance" with it later, making it a really big deal.
Opening up the big gigantic box from
Guidecraft
was quite a production, and I really wish I had gotten at least a photo of Trina's face when she saw what was actually inside. Video would have been better. She squealed, she nearly cried. Richard was incredibly excited as well.
My big three boys (14, 12, 10) went and found the power screwdriver, pulled out the directions, and started inventorying the parts. Then they went to work putting it together... something else I should have photographed.
It took probably an hour and a half or so, but they got it together really well, and without problems. It would have taken ME far longer. Their only comment was that this would have been awfully time-consuming with just a regular screwdriver.
And then Trina and Richard got to play. Trina insisted on getting on her apron, and will not "work" in her kitchen without it. Richard has no such rules. Trina particularly loves washing dishes... and the faucets are so cute!
In the picture above, you can see the hinge where this all folds up. I did not get a photo of it all folded, so I'll use one from the website... so below you can see it all folded up and going under a bed.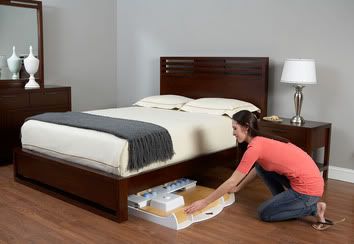 That is just the coolest thing! So instead of it always having to take up a huge bunch of space, you can store it away. Now, folding it up is reasonably straightforward, but it isn't so easy that I'd be putting it away every night or anything. Just an fyi on that. But my kids all figured out how to do it, so it is now pretty easy for me!!
What I love about this kitchen is that it is giving both Richard and Trina the chance to pretend. Trina tends to "make" meals that I have just made, and she spends a lot of time washing dishes. To her credit, she does some of that for real too. But imaginative, pretend play is so important... and while none of my kids have had problems creating pretend worlds for their pretend play, a high-quality resource like this makes it a lot more fun for everyone.
Richard spends a lot of time setting the clock to the right time. It makes him a little crazy when it says something completely different from reality.
Guidecraft has some amazing products, and if the others are as sturdy and well-constructed as this one, they are worth every penny. I have my eye on the
Greek blocks
. Merry Christmas, kids? The Hideaway Country Kitchen is available for $200, and there is also another hideaway kitchen available. That one looks really pink though, so I am thrilled that we have this one.
(And note to self... mop the floor before taking photos in the kitchen. Uff dah. We are always tracking mud in, so there is a reason I rarely take pictures in there.)
You can read what other TOS Crew Members have to say about this kitchen here:

Disclaimer: As part of the TOS Homeschool Review Crew, I did receive this amazing kitchen in exchange for my review of the product. All opinions are my own, and receiving complimentary products does not factor in to my opinions. For more about my take on reviews, visit my blog post
here
.